ILSA Diagnostics
iLsa Diagnostics innovates in the field of in vitro diagnostic tests for more than 20 years to meet the requirements and needs of laboratories and healthcare professionals.
ILsa Diagnostics designs instruments and solutions to provide more reliable and efficient results to improve human health for cervical cancer screening in cytology and for bio-banks and blood centers to store blood samples and manage their sampling storage.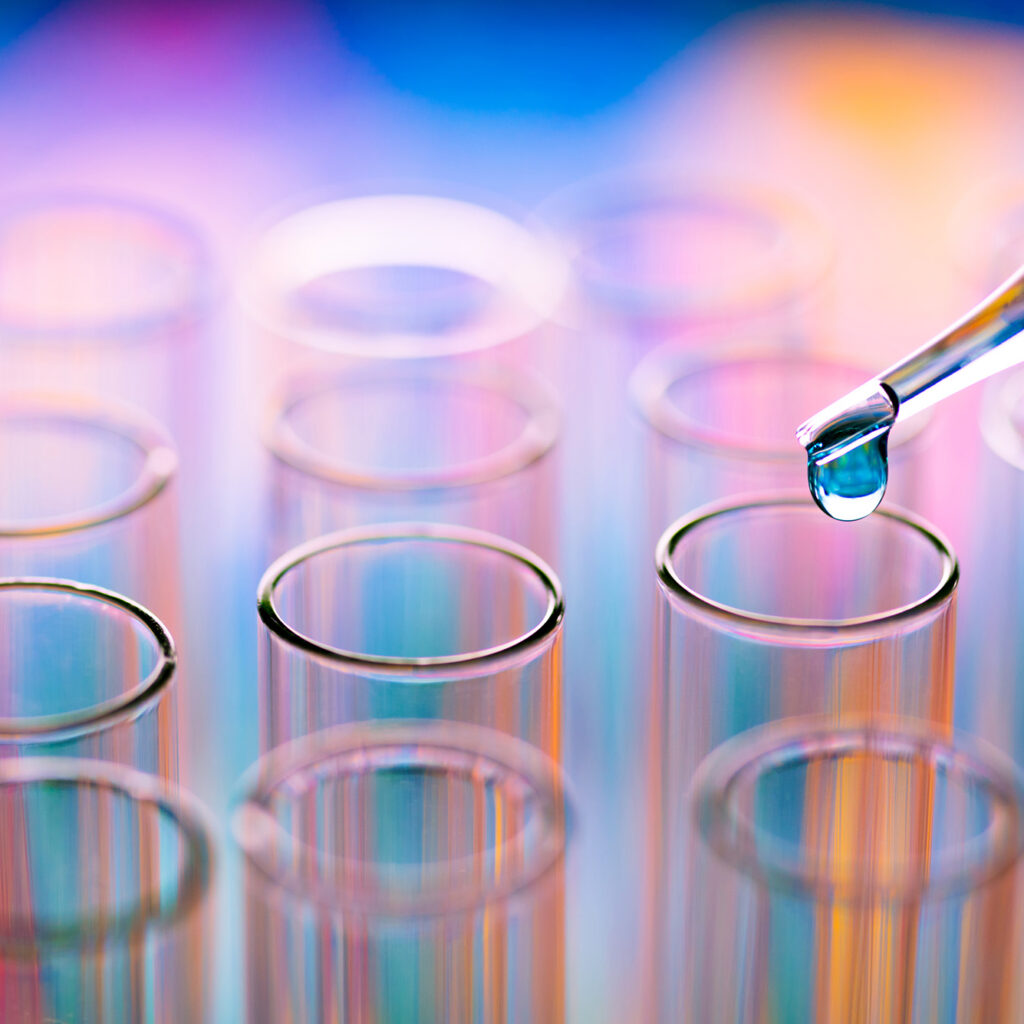 Cytology
Improve the performance of liquid-based cytology for cervical cancer screening, thyroid, …
ILSA DIAGNOSTICS HAS AUTOMATED THE REFERENCE METHOD THAT LED THE DEVELOPMENT OF LIQUID CYTOLOGY TECHNOLOGY, NAMELY CENTRIFUGATION.
iLsa Diagnostics has improved this reference method by centrifugation with several innovations to increase the quality of the spreads and thus facilitate manual reading or by scanner, to make the diagnosis safer, to secure the process of obtaining the slides, to automate to rationalize the operations and to obtain labor time savings.
First of all, the quality of the collected samples smears on slides:


• No cells clusters, clear cells separation well without deformation, homogeneous thanks to the controlled double centrifugation process:
Monolayer and reproductible spot (identical cell concentration on slide irrespective of the sample concentration)
A fully automated process in total security that ensures total traceability
Significant savings in operator time
The high quality of the slides obtained with our technology allows iLsa Diagnostics to offer a global solution for digital cytology in partnership with DATEXIM
CYTOLOGY INSTRUMENTS DEVELOPED BY ILSA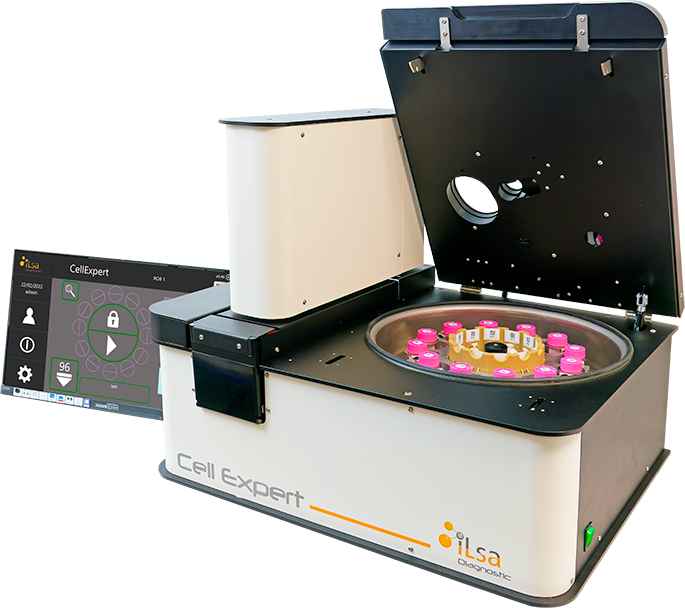 Cell Expert
Latest instrument of the iLsa Diagnostics product line.
A compact instrument with a modular and scalable configuration to adapt to the number of slides / day. The embedded centrifugation of specimen bottles with conical bottom concentrates samples to process any type of sampling: Gyn and non Gyn (Thyroïd, Urine, CSF …).
Very high speed.
Automatic opening and closing of specimen bottles.
IDC 20
IDC 20 automates the spreading process, without any risk of error.
IDC 20 spot is homogeneous, monolayer and reproducible, Thanks to a double centrifugation and an integrated turbidity reading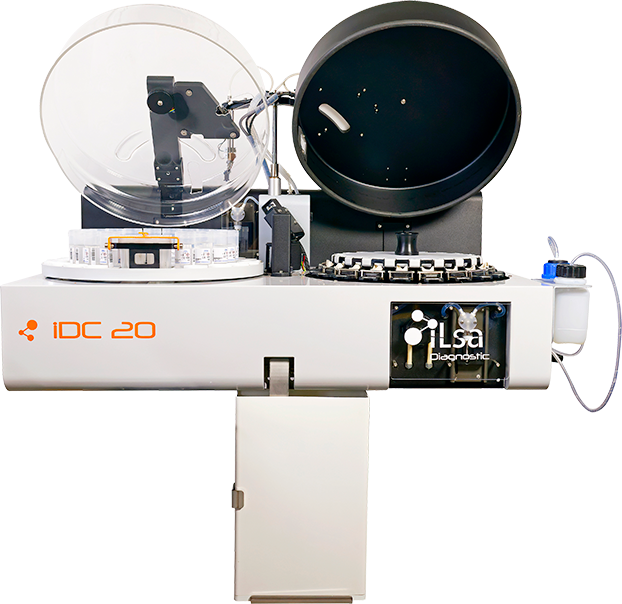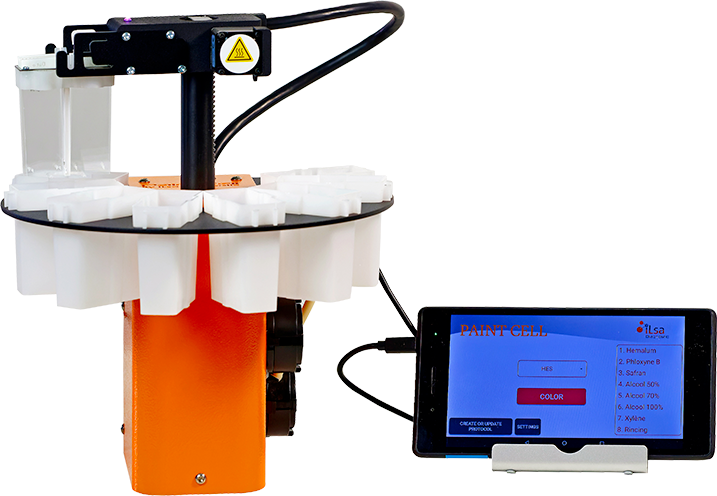 Paint Cell
Paint Cell is designed to automate time-consuming special stains performed manually in your laboratory.
Accessory
IDC Shaker
Shaker for sampling vials which allows to dissociate clusters of cells and to dissolve mucus sources of defect of spreading by a vertical shaking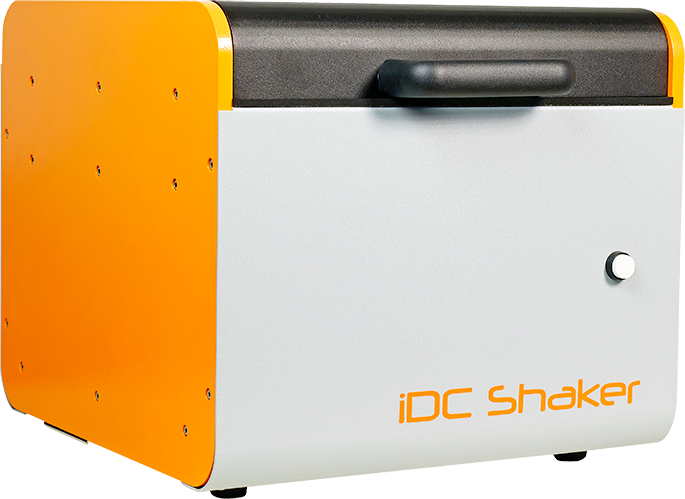 Sample Storage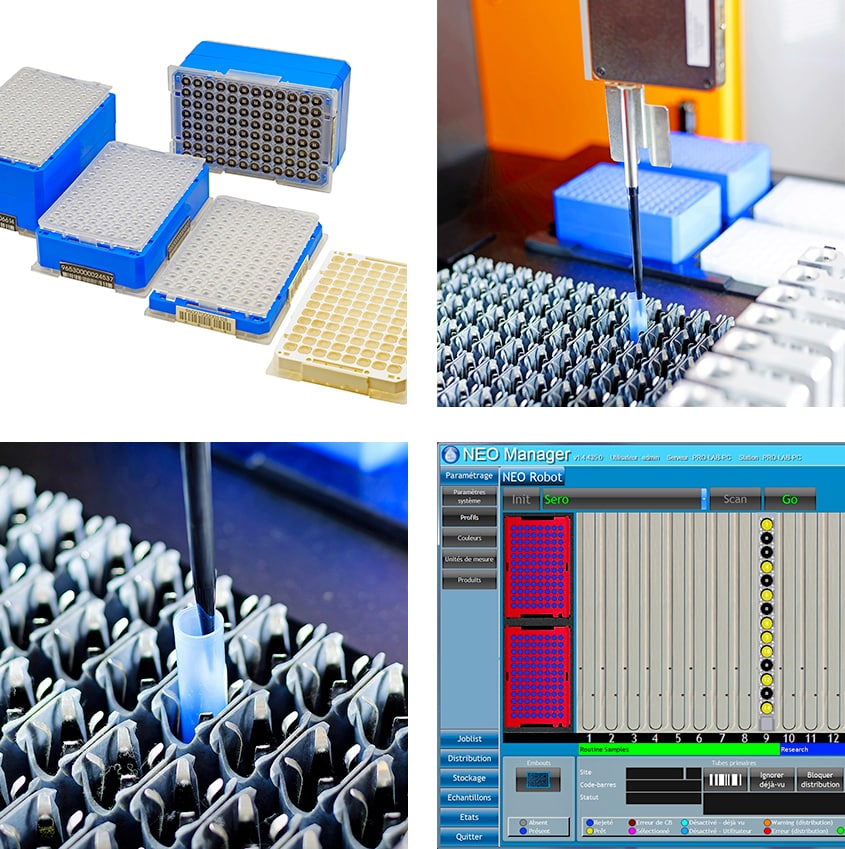 ILSA, THE SAMPLE STORAGE SYSTEM MARKET-LEADER HAS DEVELOPED THE 3S SAFE SAMPLING SYSTEMS
To meet the requirements of your accreditation, divide by 4 your storage volume and reduce the cost of your samples storage
• Hospitals and clinical diagnosis
• Biomedical analysis laboratories
• Blood banks and transfusion centers
• Pharmaceutical and research laboratories
• Toxicology centers
• Biobanks, …
The originality of the 3S system (Safe Sampling Systems) is its patented microplate.
It is a monoblock microplate with extractible wells. The microplate is identified with a unique number printed in the factory (bar code) and each well is also identified with this same number to which is added its position on the microplate (DataMatrix). Each well has therefore its own unique identification. This original configuration simplifies your sample storage system management.
The use of disposable and capacitive tips allows to avoid any contamination and to check the aliquoted volume. Its anti-intrusion barrier, its MTBF and its intelligent sampling make this automat a reliable and robust device. The management of primary tubes and microplates by barcodes and wells by DataMatrix avoid any human error.
The automated system becomes an essential link for the accreditation of your laboratory because it safely handles the entire management of your sample storage without any possible errors.
THE SAMPLE STORAGE SYSTEM DEVELOPED BY ILSA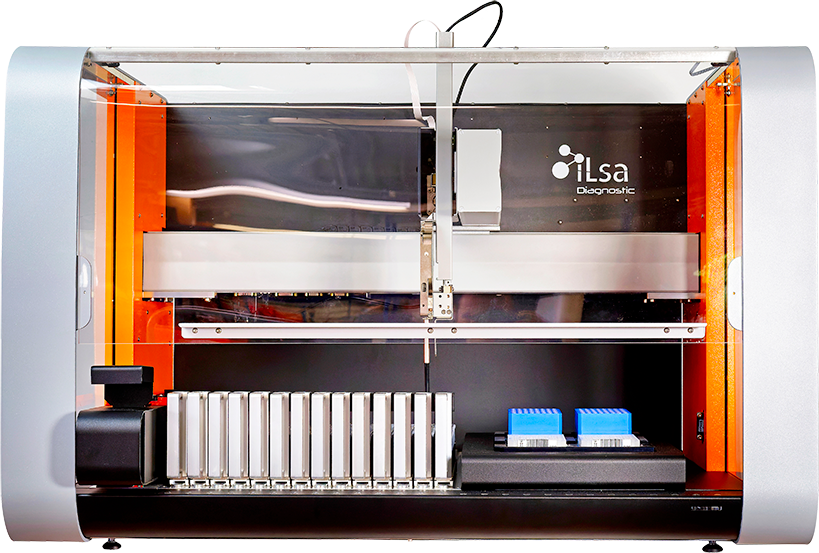 3S SAFE SAMPLING SYSTEMS
The originality of the 3S system: It is its patented monoblock microplate made of extractible wells.
Fields of action / skills
In vitro diagnostics
Liquid-based cytology
PAP
Cervical Cancer Screening
Détection cellules cancéreuses
Anatomopathologie
Anapath
Pathologie digitale
Étalement cellules
Datexim
Alphapath
Coloration
Colorateur de lames
Cytologie urine
Cytologie pulmonaire
Automate de diagnostic
Digitalisation de lames
Scanner de lames
Numérisation de lames
Micro-colorateur
Aliquoteur pour tests HPV
Brosses de prélévements gynécologiques
Lames pour immunocytochimie
Sample Storage
Conservation échantillons sanguins
Aliquoteur d'échantillons bio-banques
Traçabilité des échantillons
Stockage échantillons sanguins
Microplaques
Micro puits
Sécurité stockage